One of the most added value objective of RTS for Enterprise LSP workshops is that participants «build a shared identity for their Enterprise and get continuously heed the changing landscape to develop a set of Simple Guiding Principles for continuous strategizing » (see manual 7).
Due to the changing VUCA environment that surrounds organizations, more and more RTS for Enterprise LSP workshops involve to consider the whole competitive sector (Porter model) and the evolutions of the macro-environment (PESTEL model) they have to deal with and be ready for action. So, that's why its' very appropriate to go further than shared identity (AT2) through creating the suitable agents landscape (AT3) having in hands Porter and PESTEL models. 
As a LSP facilitator, it can be very useful to keep it in mind during the workshop design process and the facilitation of the Agents landscape to get a better LSP workshop value.
* Benefits of Porter and PESTEL models during the workshop design process (see manual 3)
o Step 1 : a better understanding the client's needs and the context
To get a full understanding of the client's needs, we can frame our questions about his (her) environment by having in mind the different elements of Porter and PESTEL models. Don't hesitate as a facilitator to ask more about their environment and the agents which impact their business.
During this selling meeting, we can take a lot of benefits to make our client build the landscape of his (her) needs with 2 or 3 persons from his (her) organization.
o Step 2 : define precisely the participants, the duration and the budget 
Considering the relevant Agents , we can now help our client to better choose those participants who are able to build these Agents.
After that, we have the sell arguments to show the added value of a RTS Enterprise workshop with Agents landscape and more!
o Step 3 : help to better formulate the big question 
o Steps 4 and 6 : develop the detailed script and roadmap with the adequate sub-goals 
to reach the big question.
* Benefits of Porter and PESTEL models during the facilitation of agents landscape (AT3)
Based on our prior well-understanding environment with our client (see step 1 above), Porter and PESTEL models give to us, as facilitators, an easy-to-follow framework to keep in mind the relevant Agents. This can be very useful to help the participants getting a better understanding of what they have to build, considering the sub-goals and purpose of the workshop.
o At the end of the first round of building Agents, we are sufficiently self-confident, thanks to Porter and PESTEL, to help participants to better grasp and pay heed about what constitute the landscape right now. 
o For the second round of building Agents, the facilitator stimulate the participants to enrich their landscape with what could be missing Agents, using some sense of humor. This can be done only by facilitating the process, not suggesting any Agent as we are not consultant.
Benefits for LSP workshops in academical courses environment using Porter and PESTEL models
Students of Business school or Master's level engineering school mostly learn academic courses through solving case studies. 
To facilitate a RTS Enterprise workshop to help them to have a better understanding of their project environment, it can be very useful to make them remember the elements of Porter and PESTEL models just before the workshop.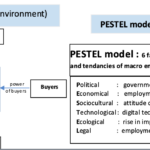 Sources  : 
Gerry Johnson, Kevan Scholes, Richard Whittington, Frédéric fréry – « Stratégique 7e Edition » – Pearson Education
Michael E.Porter – « The five competitive forces that shap the industry » – Harvard Business Review
MOOC "Les fondements de la stratégie", (in French) given basics of micro and macro environmental analysis for the business…..